Panama City Beach in Northwest Florida is foremost known for its beautiful, powder-sugar sand beaches and its proximity to many southern states. What many don't know, however, is the wide offering of amusement parks and attractions outside of the beaches of Panama City that bring fun to residents all year round. Those interested in learning more about Panama City Beach real estate should definitely know about the best amusement parks the city has to offer and the variety of attractions and qualities that make Panama City so unique.

Amusement parks in Panama City Beach include theme parks and water parks, as well as race tracks and swamp adventures, and can be found all over the city. As such, you'll find a wide selection of activities to choose from, including both thrilling sky-high roller coasters with panoramic views and engaging family adventures perfect for little ones. There are also attractions unique to the area that you won't be able to find anywhere else in the world. Here are the best amusement parks in Panama City Beach you need to add to your list of attractions to visit.
WonderWorks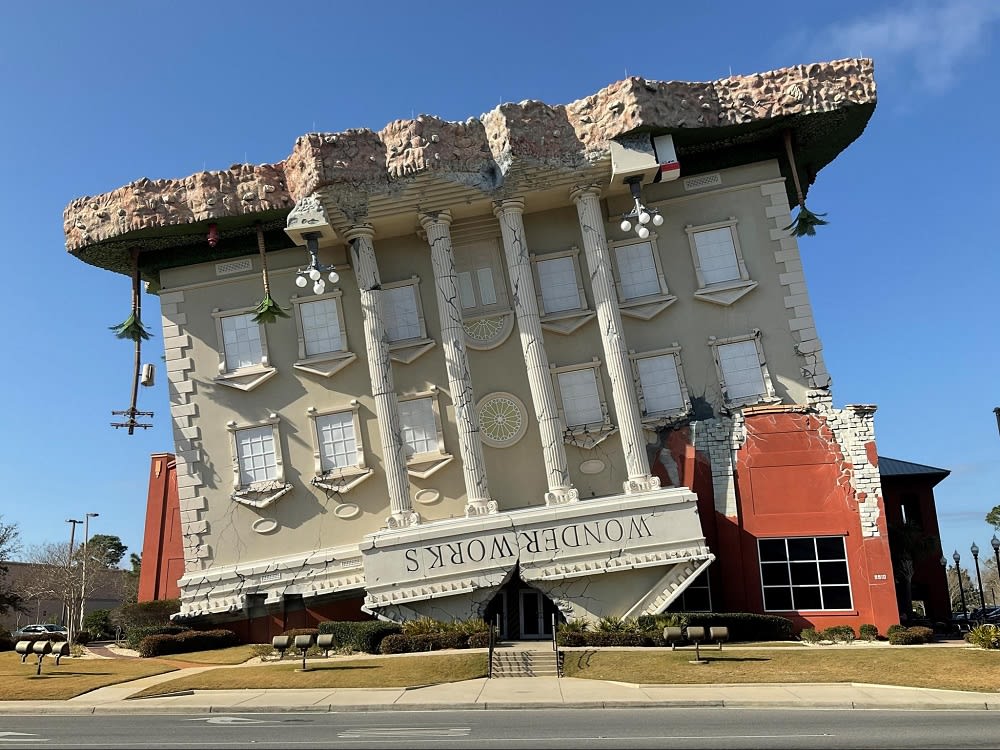 Photo courtesy of Wonderworks
First up is
WonderWorks
, an attraction that's not to be missed and nearly impossible to do if you drive by it. The upside-down building appears as if it has been ripped out of the earth and turned completely on its head. However, the inside of the building is a different story. The attraction houses more than 100 hands-on science exhibits, along with laser tag, a 6D motion ride, and a glow-in-the-dark ropes course. WonderWorks is an amazing learning experience with many different areas of "edutainment," including an extreme weather zone, a space discovery zone, and a physical challenge zone. The extreme weather zone allows visitors to experience the effects of a Category 1 hurricane and a 5.3-magnitude earthquake. WonderWorks is perfect for children and young adults and is a great destination for festive occasions. A great rainy day locale, families in search of things to do indoors in Panama City Beach should definitely pay a visit. WonderWorks is conveniently located on Front Beach Road, very close to the beach and Laketown Wharf.
Swampy Jack's Wongo Adventure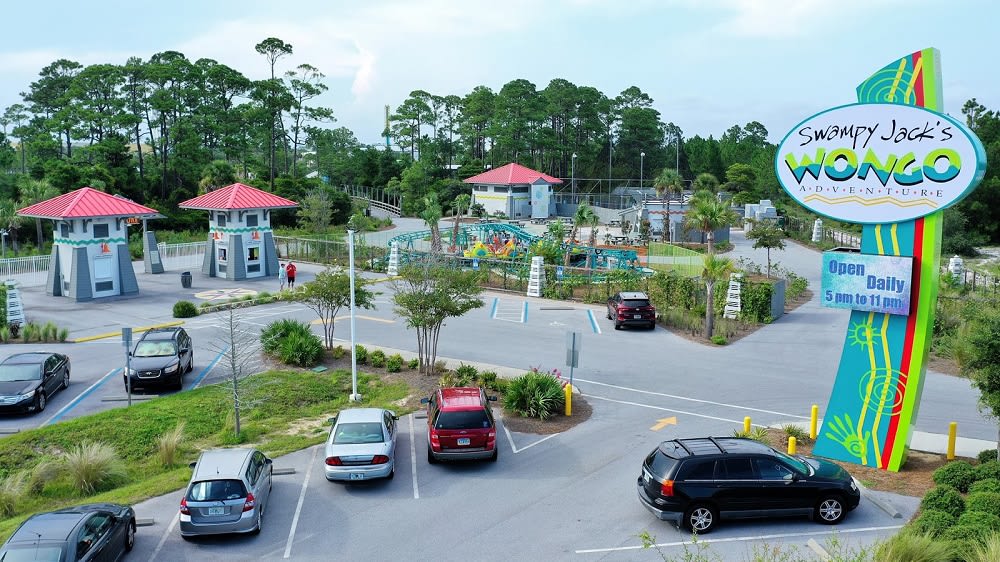 Photo courtesy of Wongo Adventure
Swampy Jack's Wongo Adventure
is ranked as the best amusement park in Panama City Beach, and for good reason. The park is half theme park and half family entertainment center and brings visitors through the many adventures of world traveler Swampy Jack all with a healthy dose of adrenaline rush. The Marrakesh Road Rally, also known as Mario Kart come to life, is an electric go-kart track with an interactive aspect that pits drivers against each other. The Eye of the Kraken is a chair swing ride that lifts you up into the air and spins you round and round, all while displaying views of the surrounding area. There are also bumper cars, a scrambler, and a mini-putt golf course. Although there isn't a lot of information on the website, there is a lot to be found in the glowing review on the
Florida Panhandle website
. The park truly has something for everyone and can even be a great date spot with delicious food and drink options as well. Swampy Jack's is located very close to Edgewater Beach and is a great stop on the way home after a weekend beach day.
Cobra Adventure Park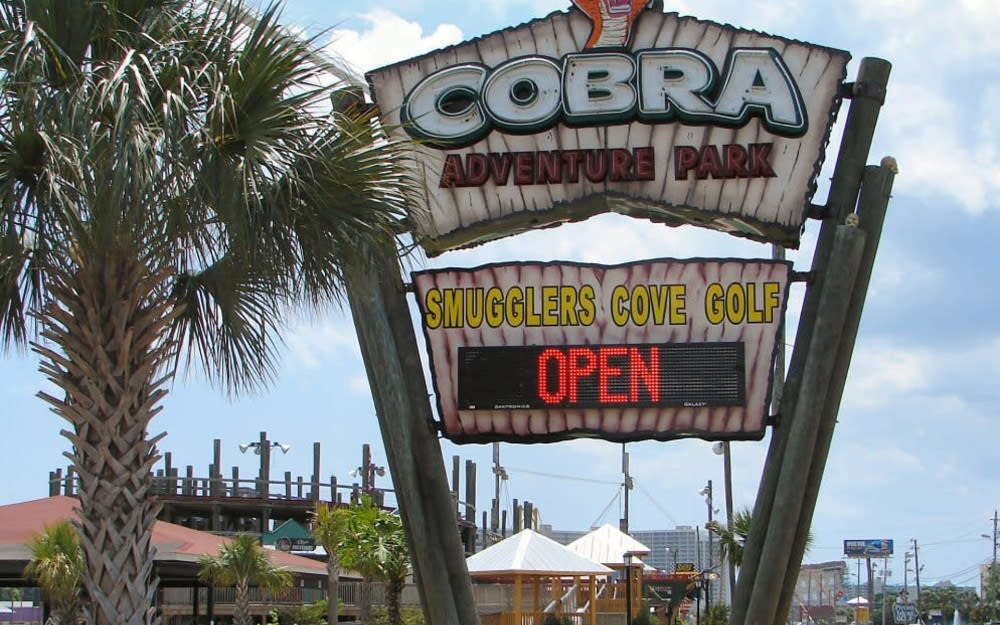 Photo courtesy of Cobra Adventure Park
Cobra Adventure Park
is a small but lively beachside amusement park with both indoor and outdoor components. Here you'll find roller coasters, such as the Max Flight Simulator and the Dragon Wagon, which are great for younger thrill-seekers. There's also an 18-hole mini golf course known as Smuggler's Cove with challenging and fun pirate-themed holes. In addition, the park includes a vertical accelerator, go-karts, and an arcade. Cobra Adventure Park is great entertainment for both kids and parents, with options for all ages, so no one has to compromise. The park is known for having great prices and friendly staff.
Race City PCB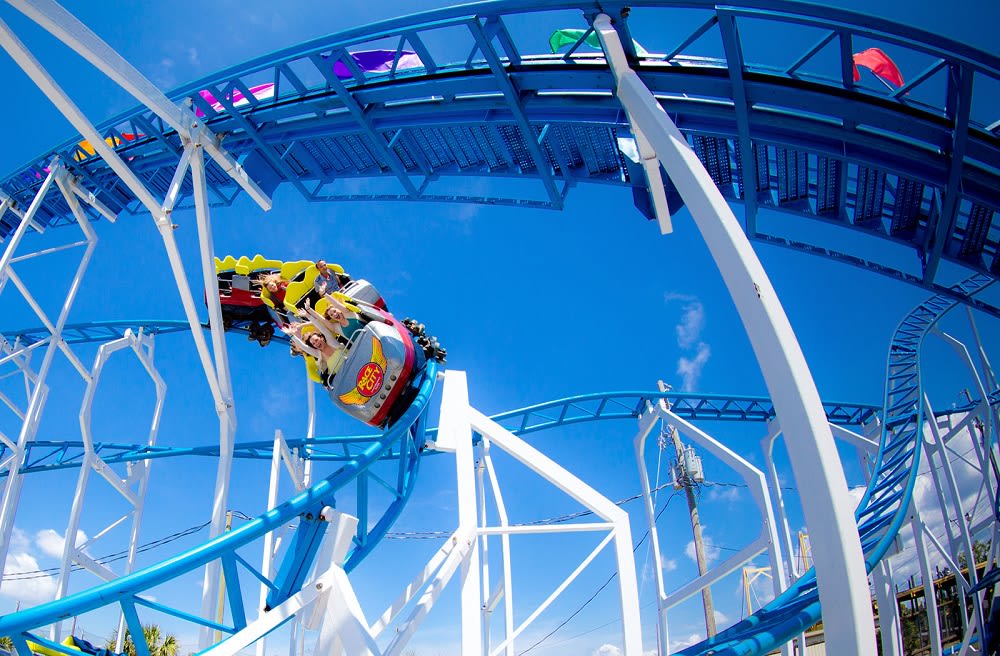 Photo courtesy of Race City Amusement Park
Race City Amusement Park
is a great attraction for those seeking an adrenaline rush, as everything that Race City offers keeps thrill a top priority. The Go Kart tracks are the fastest, tallest, and steepest in the area. The skycoaster ride flies at 60mph and is said to simulate the feeling of bungee jumping, hang gliding, and skydiving all at once. One park band allows access to all that the park offers (minus the Skycoaster), letting you try out the Bumper Boats, Spin Zone, Hurricane Roller Coaster, Arcade, Fun House, and more as many times as you'd like. The Hurricane Roller Coaster is the most exciting in the area and stands at 50ft tall with 1,430ft of steel track. There are also the fast thrill rides such as the Spider, whose body rotates and moves up and down randomly, while the cars on the end of each arm spin. The Fairground rides also provide an option for the smaller or more laidback visitors, with slower-paced rides such as the Teenage Mutant Ninja Turtles merry-go-round or the Wild Bears that spin as little or as much as you like. The park offers free parking and free wifi.

Panama City Beach real estate includes all of the perks of living in Florida, such as beautiful beaches and great weather, but it also has a fun side that makes it unique. Bringing people and families of all ages together, Panama City Beach's amusement parks offer thrilling adventure options for everyone to enjoy. The above list is just getting started on all the attractions the city has to offer, as the city has an endless amount of fun within reach of many lovely Panama City Beach homes for sale.
Ready to make Panama City Beach your new home?