Situated along two picturesque bays, just minutes from Panama City Beach, discover the charm and serenity of Panama City, FL. Home to a myriad of cultural attractions, convenient shopping, and exceptional dining, Panama City, FL, is the largest city between Pensacola and Tallahassee.
Whether you are currently exploring Panama City, FL, or Panama City Beach
homes for sale
, it is essential to start learning about the benefits of living in the area. As with many coastal cities, a favorite pastime among residents is going out to brunch. While exploring your new city, grab a table at these nine top brunch spots in Panama City, FL.
The Press
310 Harrison Ave

Panama City, FL
Photo courtesy of The Press

Open seven days per week, The Press is a trendy coffee shop focusing on customer service and high-quality coffees. Located steps from the water and the always-picturesque McKenzie Park, this is a wonderful area to explore on a relaxed Saturday or Sunday morning. Grab your favorite roast style as a pour-over, cortado, breve, or as a quick-ready brew. Individuals who are feeling especially adventurous can splurge for one of the cafe's house or seasonal coffee flights. Offerings on these flights include the Honey Cinnamon Iced Americano, the Bourbon Caramel Latte, and more.

In addition to The Press's menu of elevated coffee beverages, patrons can indulge in palate-pleasing food items. More specifically, the cafe is known for its one-of-a-kind crepes, charcuterie boards, and light sandwiches.
Bayou Joe's
112A E 3rd Ct

Panama City, FL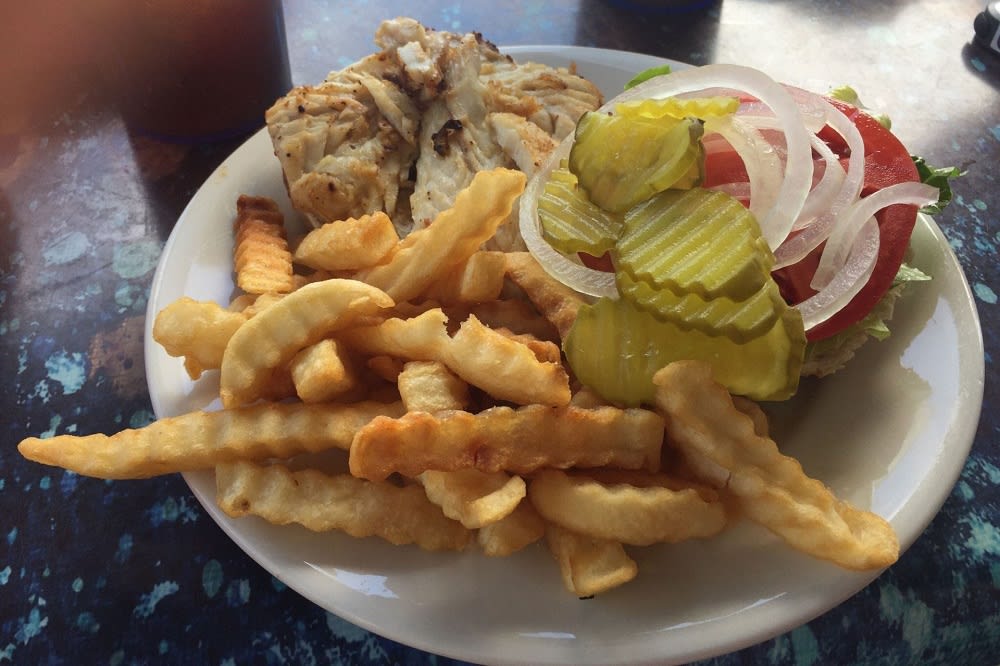 Photo courtesy of Bayou Joe's

Delivering 180-degree vistas of the Massalina Bayou, Bayou Joe's is a fun and approachable spot to grab brunch any day of the week. Relaxed and casual, this restaurant is a refreshing escape from the hustle and bustle of daily life.

Bayou Joe's offers a robust menu of breakfast and lunch items and brunch cocktails. Feeling thirsty? Order an adult beverage such as a mimosa, Fynn's killer bloody Mary, a screwdriver, the café luna coffee, or the Bayou sunset. Popular brunch dishes include the garbage omelet, potatoes, and grits, the Bayou omelet, catfish and eggs, and Reece's crunchy French Toast.
Amavida Coffee Roasters
2997 W. 10th St.

Panama City, FL 32401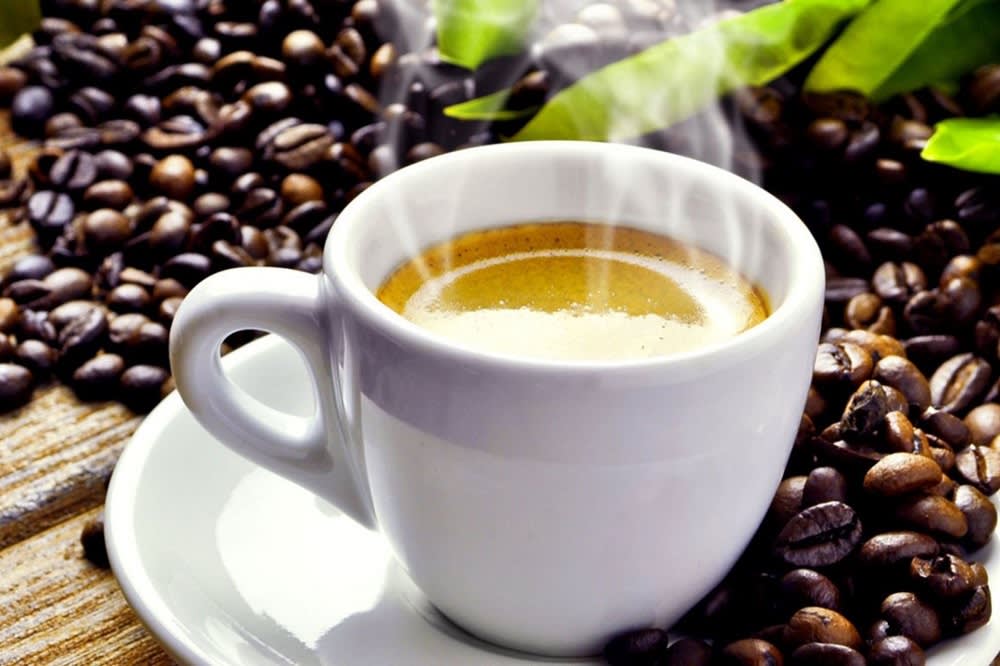 Photo courtesy of Amavida Coffee Roasters

Craving a brunch that includes locally-roasted coffee and light menu items? If so, Amavida Coffee Roasters is an outstanding choice. Serving up coffee and espresso drinks using their own specialty beans, you'll easily feel at ease in this cafe's cozy and eclectic environment. Amavida is minutes from idyllic Oaks by the Bay Park, as well as St. Andrews Marina.
Andy's Flour Power Cafe-Bakery
2629 Thomas Dr.

Panama City, FL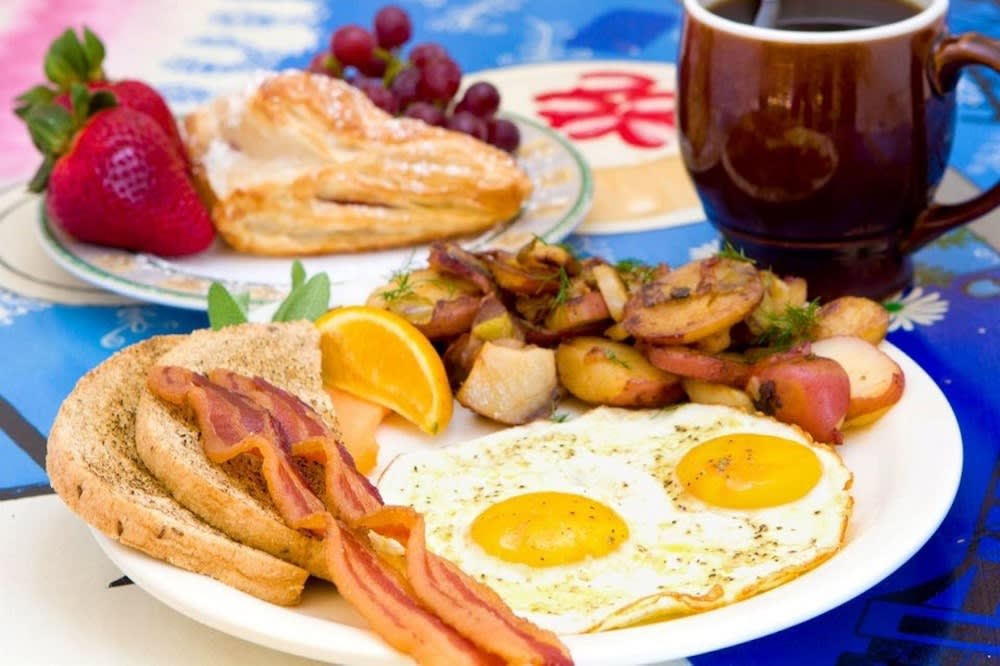 Photo courtesy of Andy's Flour Power Cafe-Bakery

On the opposite side of the bay — close to Panama City Beach — discover the charm and delicious menu offerings at Andy's Flour Power Cafe-Bakery. Lauded as a top restaurant in Panama City, FL, visitors can enjoy their brunch menu on Saturdays and Sundays.

What will you find on the brunch menu at Andy's? Whether craving sweet or savory, you're certain to fall in love with their handcrafted dishes. Popular selections include the flower power French toast (made with thick-cut French bread), the breakfast burrito, rolled omelets, and biscuits and gravy.
The Pancakery of PCB
13800 Panama City Beach Pkwy #110

Panama City Beach, FL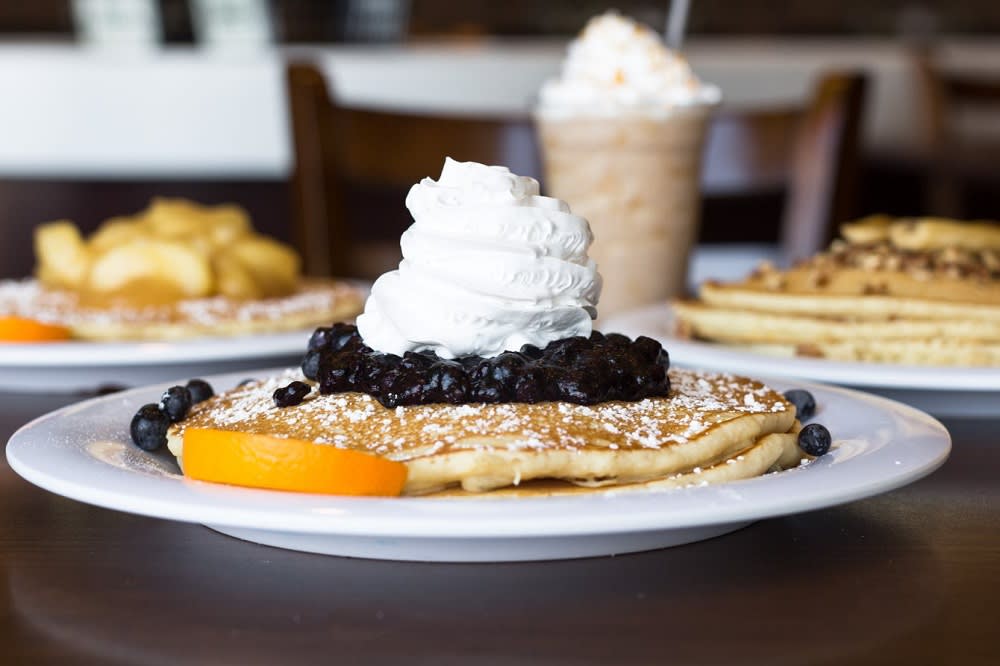 Photo courtesy of The Pancakery

Find yourself in Panama City Beach for brunch? Be sure to plan your visit to The Pancakery. Originally started in Destin, Florida, the local chain opened its second location in PCB in 2017.

When dining at this beloved Florida institution, you can treat yourself to a myriad of brunch dishes. However, as its name suggests, the menu is pancake-centric, offering creative stacks that you won't find elsewhere. Favorite items include the chocolatier pancakes, the big apple pancakes, the crab island omelet, the house crepes, and the avocado toast.
Liza's Kitchen
7328 Thomas Dr. L

Panama City, FL
Situated on Thomas Drive, directly across the street from waterfront Rick Seltzer Park, enjoy the eclectic ambiance of Liza's Kitchen. Offering an expansive brunch menu every weekend, this restaurant is a favorite among area locals.

Compared to other nearby brunch restaurants, Liza's easily has one of the biggest menus. Diners can order dishes such as eggs New Orleans, biscuits and gravy, B.L.E.A.T sandwiches, hippie hash, and many other unique creations. Liza's also features a selection of soups, sandwiches, salads, dips, and a la carte items on its brunch menu.
Thomas Donut & Snack Shop
19208 Front Beach Rd

Panama City Beach, FL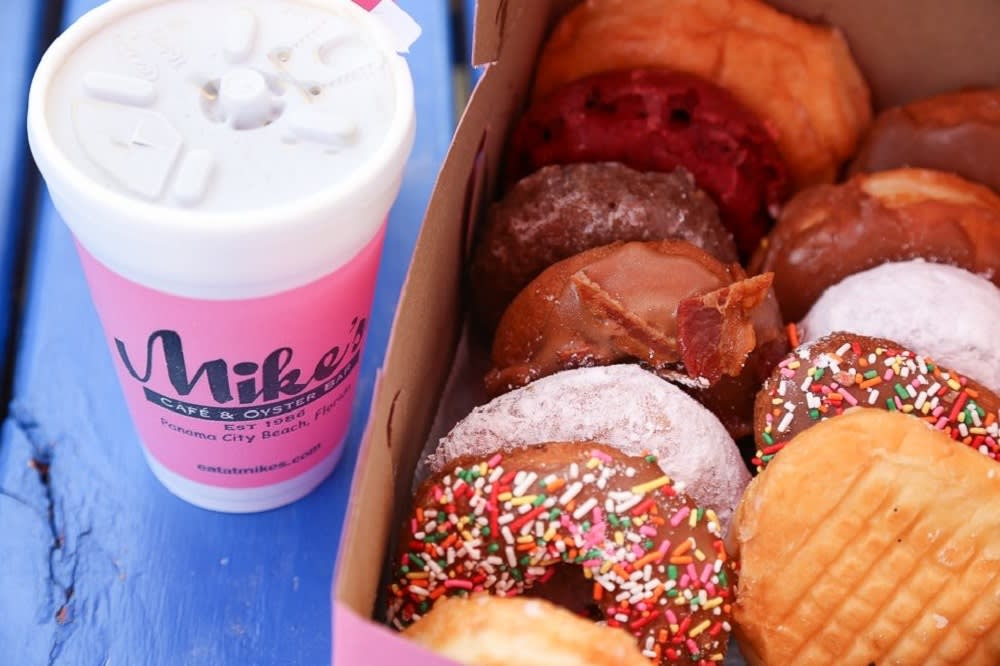 Photo courtesy of Thomas Donut & Snack Shop

Since 1971, Thomas Donut & Snack Shop has served as a Panama City Beach breakfast and brunch staple. Serving up a creative menu of donuts each morning, area residents flock to this vintage establishment every day of the week. Here, you can order donut flavors such as the candy sprinkle topped chocolate-covered raisin, peaches and a cream-filled white cream long John, and many others.

If you are craving something other than donuts, you can order from the restaurant's robust selection of homemade kolaches, traditional breakfast dishes, sandwiches, and more.
Gypsea Crepes
7012 Thomas Dr.

Panama City Beach, FL
Offering both sweet and savory options, Gypsea Crepes, is the perfect choice for brunch on Panama City Beach. Located steps away from public beach access, this is a wonderful place to charge up for a day of sun and fun. With sweet and savory options, you can definitely find whatever you're looking for here.
Dat Cajun Place Cafe
2705 Thomas Dr.

Panama City, FL
Last but not least, Dat Cajun Place Cafe consistently places at the top of every list for the best brunch restaurants in Panama City, FL, and Panama City Beach. Easygoing and relaxed, the influence of the local beach culture is strong at this establishment.

Each Sunday, Dat Cajun Place Cafe serves up a unique menu of brunch offerings. Popular dishes include Dat scrambled hash, the build-your-own omelet, gourmet cinnamon rolls, and Shrimp and lobster grits. Don't forget to order bottomless mimosas to make the experience complete!
Moving to Panama City, FL?
Are you getting ready to settle into your new luxury home in Panama City, FL?
Bay Real Experts
and
Sean Casilli
are ready to help you find your dream property. Whether you're looking for something on the waterfront or a home that is a bit more private and secluded, we can connect you with exactly what you're searching for. As full-service real estate agents, we can also help you sell your real estate. Contact us now to begin your journey.